How to Upgrade to vSAN 6.6 ? How to Upgrade vSAN cluster through Update manager? There is significant improvement when it comes to performance and the way things are handled in vSAN 6.6 , you are allowed to perform upgrades for the hosts using Update Manager available on the latest vCenter server 6.5 update 1 as VUM is now aware of vSAN enabled cluster . For all environments which are 6.0 U3 for both Vcenter server and ESXi and you are looking forward to leverage all features of VSAN 6.6 , you may now upgrade the setup to 6.5 U1 for both vCenter server and hosts . There are more information that you need to know about vSAN-6.6 I encourage you to see  vsan6.6-official page , also see vSAN6.6-Performance Improvements .
Links :
Whats New with vSAN 6.6.1
vSAN is now integrated with vSphere Update Manager.
Cloud Performance Analytics for vSAN .
VC Recovery on vSAN Datastore
Performance improvements when compared to previous releases (6.2 and 6.1)
Please also see the vSAN-upgrade best practices before you start upgrading your hosts to 6.5 Update 1 . You may follow the below procedure to upgrade the hosts post having the vcenter server upgrade to the latest 6.5 U1 .
How to Upgrade vSAN cluster through Update manager to 6.6?
Step1 : Verify if the the vCenter server is upgraded to the correct build  .
Step2 : Check your update Manager tab
Here you must see that update manager is able to pick up your vSAN enabled clusters available in the vCenter server  and also recommends you to have the hosts patched to 6.5 U1 release to make them compliant .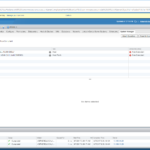 Step3 : Attach the baseline and stage the Upgrade to 6.5 Update 1
Step4 : Remediate your vSAN Cluster
Note: Before you start remediating the cluster , make your you have performed pre-upgrade checks . Also ensure not to choose multiple host remediation at the same time , it is advised to contact support if maintenance mode fails on some or all hosts. It is okay to uncheck "Retry entering maintenance mode in case of a failure ". Please address all recommendations suggestion the Pre-Check Remediation .
Step5 : Check Update manager and health Plugin tab
Verify if the cluster is compliant on the  update manager tab and also if there were any warnings reported on the health check plugin post upgrading all hosts .
In my case the health plugin was reporting about the controller firmware version detection , hence I had to push the avago vibs to the hosts to detect the firmware on the I/O controller.