This guide will walk you thru all the new features about SRM 8.2 and vSphere Replication and steps to install , configure , manage and migrate to SRM 8.2 . Also covers all the new functionalities around vSphere Replication Aplliance 8.2
How to Install , Configure and Manage SRM 8.2 and VR 8.2 ?
How to migrate from Windows based SRM to SRM-Appliance?
Methods to install SRA on the new SRM-VA.
How to configure replication for Encrypted Virtual machines?
I am really exited about the new version of Site recovery manager 8.2 which now comes with an Appliance version and bring in "All New Experience" to the administrators to easily deploy and manage SRM .

Whats New with SRM 8.2 and VR 8.2?
I highly encourage you to go thru link for all additional details around SRM/VR 8.2 . For official release notes see Release-Notes-SRM-8.2
SRM is now available as appliance an d uses the VMware standard Linux based Photon OS which always required to be deployed on top of a windows box as an exe file.
This model of deployed reduces a lot of time to deploy and configure as we dont need to install an windows machine in this case and the database is always embedded.
SRA adapters from the storage vendors are all uploaded as container images and they run as a docker container within the SRM-Appliance .
Vsphere Replication 8.2 is now capable of replicating encrypted virtual machines and now can take advantage of storage policy based management , which deeply integrates with products like vSAN .
Easy and simple way to migrate from windows based SRM to Appliance by exporting all the configuration using export utility.
Large number of enhancements added to the Public API , which helps products like vRO to automate things better.
SRM pack for vROPS has some enhancements for advanced reporting .
New VR pack announced for vROPS .
Great enhancements made for the SRM/VR UI with dark mode theme compatibility.
SRM and VR 8.2 now supports NSX-T
Improved Security and Flexibility with Support for Encrypted VMs
Enhanced Security with vSphere Replication traffic encryption
SRM Content Pack for vRealize Log Insight
Download, Install and Configure SRM-Appliance
Download SRM8.2 and Download VR-Appliance8.2 and follow the below guided screenshots for deploying SRM appliance .

Since vSphere Replication Appliance deployment has always been an appliance and there is no difference in the deployment process , I have skipped the steps to deploy VR appliance and covered SRM-Appliance deployment here .
Steps are as follows :
Start with the OVF deployment similar to VR appliance and fill in OVF configuration details
Power on and Complete Configuration
Similar to VR appliance we will be logging on to the SRM-Appliance VAMI page i.e https://SRM-IP:5480 and login with the admin/password which is slightly different on the VR appliance where we used to use root/password . Once you login perform the configuration similar to VR where we provide PSC/VC authentication to SRM and perform plugin installation and solution user registration .

Appliance additional Configuration Views
We may choose to deploy two new appliances on either sites and configure fresh setup of SRM-Appliances , however if you have an existing SRM-8.1 setup running on a production environment and would like to move to the appliance version of SRM 8.2 , you will be using the Migration utility and export the data into the SRM 8.2 -virtual appliance
Site Pairing
Site Pairing procedure remains similar to the previous version . Please make sure that plugins are visible and configured on both side before you move forward with site pairing , I have added screenshots for reference .
Migrating from SRM -Windows to SRM-Appliance
To migrate any SRM-windows version to be able to migrate to SRM-8.2 appliance , we have to first upgrade the windows SRM version to 8.2 , and then initiate the Migration Process .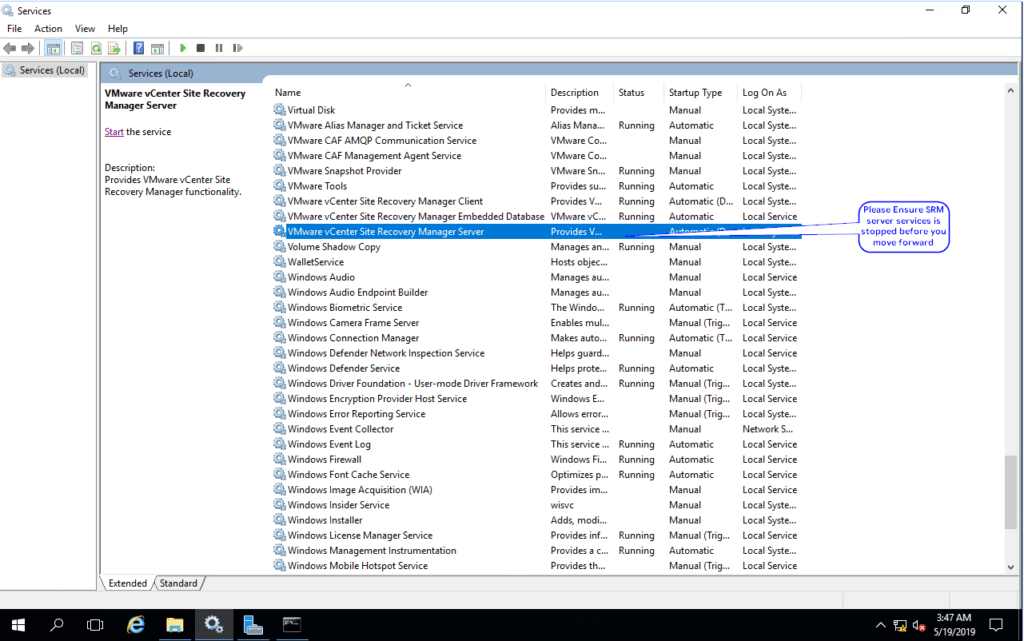 Step1 : Login to the current SRM-Windows VM running SRM-8.1 and stop the SRM service .
Step2: Launch command prompt change directory to : C:\Program Files\VMware vCenter Site Recovery Manager\bin and ruin command : .\export-srm-data.bat <Folder> . Copy the SRM-data folder to an accessible location and shutdown the old SRM-windows box after making a note of its hostname and IP address .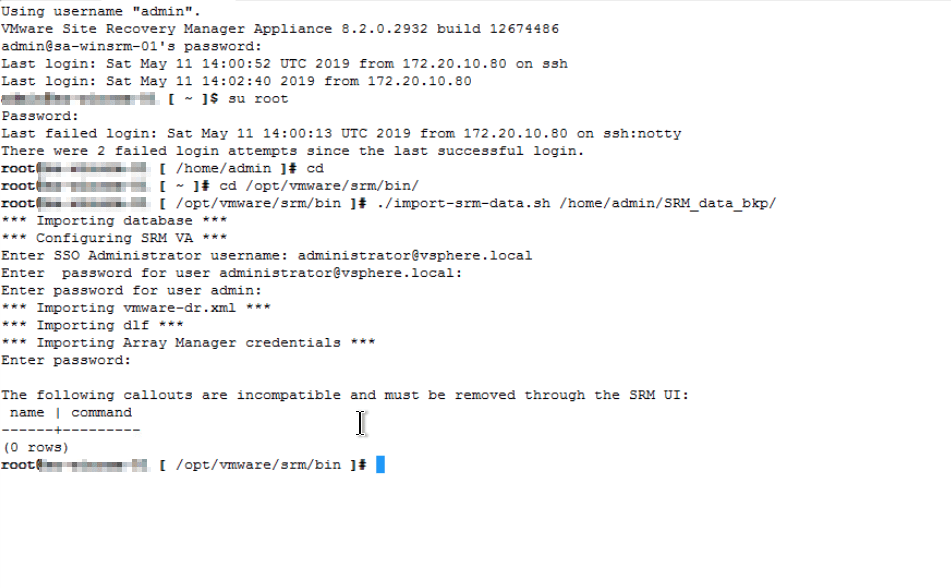 Step3 : Deploy a a new SRM-Appliance with the same IP/FQDN and hostname , complete the deployment , however dont proceed with the VAMI page configuration . Copy the download SRM-data folder into the appliance using winscp to "/home/admin/"and complete the import process , reboot the appliance .


Note*: The Restore procedure needs to be run as super-user "root" , hence login to appliance via SSH using user admin , later switch user to root to follow further Import procedure .
Also import Procedure logs can be viewed at path : /var/log/vmware/srm/import-srm-data.log
Post Import Procedure
Now that the the DB and configurations are restored on the new SRM-VA it will still need a reconfigure-pairing between the sites , the reason being that the new SRM-VA will use the default 443 port to expose SRM server/service to the vcenter unlike the previous windows based SRM i.e SRM lookup service end point will change from "https:// SRM-Windows-IP:9086/vcdr/vmomi/sdk" to "https:// SRM-Appliance-IP:9086/drserver/vcdr/vmomi/sdk" , hence post migration complete the Re-Pair operation from either of two site's SRM-UI (https://SRM-IP/dr) .
Unity-VSA (forABR)
You might already read thru my other blog where I have demonstrated steps to deploy Unity VSA for array based replication with SRM . I will be using the latest version of Unity-VSA from Dell-EMC on this illustration process. Steps to download and configure unity vsa remains the same as that of previous versions however download URL and license generator URL have changed . Please find the deployment and install process here : How to configure Pool, Luns, replication and SRA for SRM -UnityVSA .
New Download URL : https://www.dellemc.com/en-us/products-solutions/trial-software-download/eula/unityvsa.htm
New License-Gen URL : https://www.dellemc.com/hi-in/auth/elmeval.htm


Make Sure hosts are connected to respective Unity-VSA

Configure Replication connection between two VSA

Configure Replication for one of the from PR to DR


Follow thru Wiz


Follow thru Wiz

Complete Replication config

Verify Replication Session

Check Lun Status post Replication Config
SRA Installation Procedures
SRA can be installed in two methods either from the default VAMI page where we have a provision to upload the SRA-tar.gz file or can be installed via CLI .
SRA-UI-Installation and Array-Pair configuration are illustrated below .
SRA-CLI installation and cleanup procedure is also very simple , download the SRA from the respective array vendor webpage , copy the file into the SRM-VA using winscp into folder /home/admin , run command : "docker load -i <sra-file.tar.gz>" .To uninstall , you will need to make sure that there are no containers running on top of the docker image from SRA vendor , make sure to stop and delete all the docker containers and finally delete the docker image nothing but SRA .
Storage Policy Mapping for VMs
As you have read in the new features list we have now enabled vm storage policy mapping between the sites , this comes very handy when you have two sites running vSAN and you want to make sure that the storage policy at the source and target are always same . This storage policy really matters when it comes to performance comparison between the two sites i.e A VM running on the production site with RAID-1 Storage policy with higher Stripe width will need the same storage policy and stripe width requirement on the DR site and it should not be using other storage policy which can compromise the performance of your VM . Hence with SRM 8.2 along with your regular object mapping such as network,folder,resource,placeholders we now have Storage Policy mappings which ensures storage policy compliance for encrypted and vSAN virtual machines . I have added screenshots for configuring replication and protecting the VM using SRM below .
Replication of Encrypted Virtual machines
VM encryption allows the per-VM encryption capabilities, thereby making VM data on vmdk disks more secure. SRM and VR 8.2 now support protecting, replicating, and recovering VMs that are protected by VM encryption , however older version only supported protecting VMs using vSAN encryption .
Replication traffic between the hosts and the VR appliance can be also encrypted on per VM basis .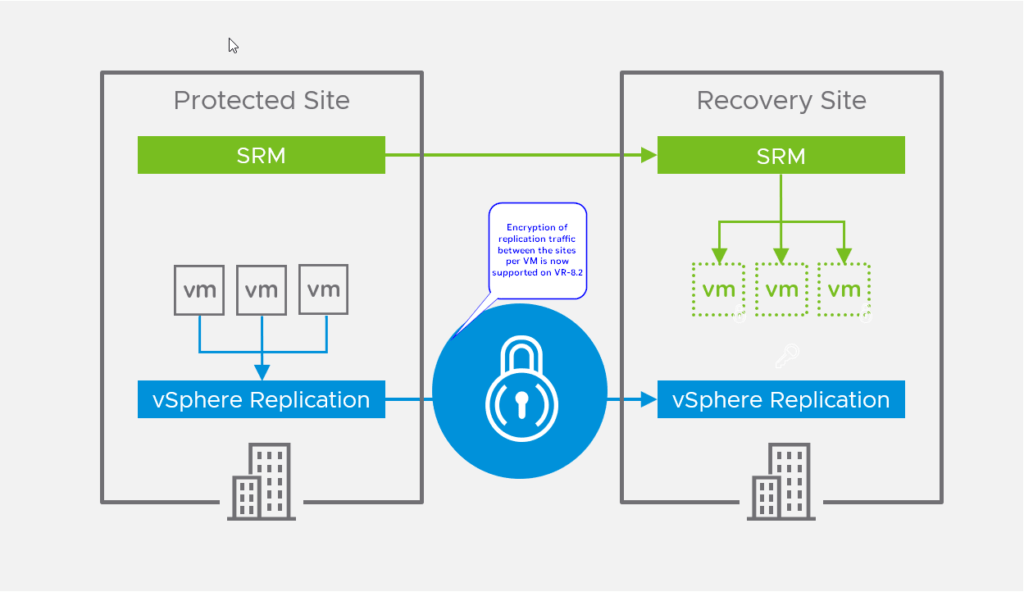 Configuring Replication on Encrypted VMs
In order to protect and configure replication for VMs which are encrypted between two sites , we need to make sure that the same KMS server is configured for both sites also with the same "KMS-Cluster Name" if the KMS-Cluster names are different we will see an error while configuring replication . Also we encrypt VMs which already replicating to another side , to configure encryption and replication on such VMs , you will need to stop replication and discard target VMDKs for that VM , configure encryption for that VM via SPBM and re-replicate the VM to target . Also to note encrypted VM cannot pick a non-encrypted seed at target .